© Wandern am BergeSeen Trail (c) TVB Attersee-Attergau/Moritz Ablinger
Salzkammergut
BergeSeen Trail
A long-distance hiking trail of a special kind - from lake to lake
The right equipment in your backpack, mountain boots on your feet that let you float above the ground and off you go.
More than 350 kolimeters through picturesque landscapes and idyllic nature, past deep blue lakes that invite you to linger. The adventure stretches over 14.000 meters in altitude, bringing with it countless alpine and regional variations.
Give your body, soul and spirit a rest and let yourself be enchanted on your path from lake to lake.
Please contact us, to help you to organize a perfect holiday.
Write a mail
© Bookingcenter BergeSeen Trail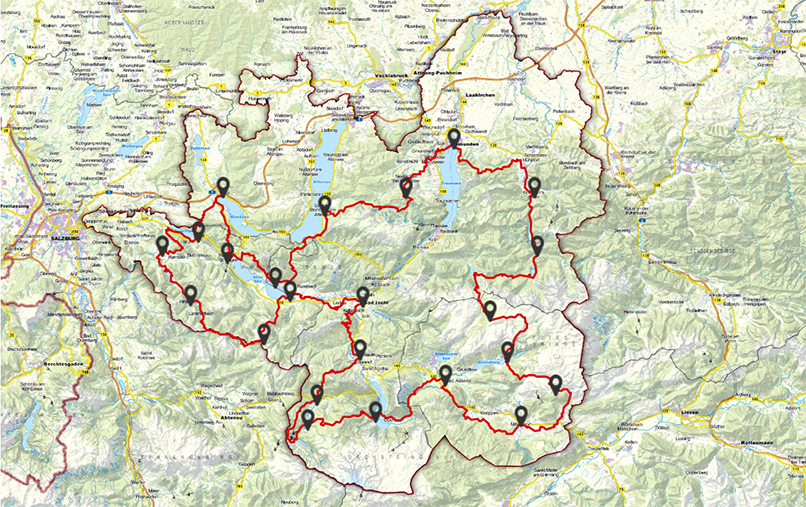 Collect your outdoor achievements and hiking pins with SummitLynx
Along the BergeSeen Trail you will not only find picturesque views, refreshing lakes and culinary delights, but also friendly alpine pasture hosts, helpful people who know their way around the area and good-humored hikers.
With the hiking pins ambitiuos hikers can put their successes and memories of these highlights on record.
Thus, the tour along the BergeSeen Trail is not only an unforgettable trip, but also a personal experience of success connected with many memorable moments.
For more information about our SummitLynx digital hiking pins, please follow the link.
Die Etappen
The BergeSeen Trail consists of 46 stages. The 20 classic stages are the basic structure of the BergeSeen Trail. With the alpine (17 stages) and the regional (9 stages) stages it's possible to lengthen the trail or make it more alpine. The alpine stages are only for people which are sure footed, free from giddiness, in good condition and have alpine experience.
"Bugs and Bears" are hiking the Salzkammergut
The BergeSeen Trail attracts countless visitors year after year. Even Doris and Matthias from "Bugs and Bears" did not miss the chance to experience the hiking flagship of the Salzkammergut with all their senses. What they experienced, where they were exactly and when the "Wadeln" started to burn, you see in the video!